Keeping people connected with the most luxurious gifting experiences, our passionate team of creatives work closely with businesses, both large and small, to create bespoke corporate gifts that save our clients time and stress, and keep them top of mind.
Our mission is to keep people connected with luxury gifts that are modern, elevated and oh so thoughtful. So whether you need personalised 20 thank you gifts or 2,000 bespoke branded gifts, Vixi Gifting offers end-to-end corporate gifting services to make your occasion one to remember.
We offer options for custom branding, sourcing unique products and free inclusion of any of your own marketing materials you would like to send with the gifts – all of which is presented beautifully to create a unique gifting experience that the recipient will want to share and talk about! 
With a variety of shipping options available to suit your timeframe or budget, your gifts can be shipped to one location or to multiple addresses throughout Ireland or worldwide.
Download Our Christmas
Gifting Catalogue 2021

Learn more about how we can help you gift your clients and employees the wow factor this Christmas! Looking for something completely bespoke? Find out more about our custom branding and gifting solutions.
A Gifting Solution
For Every Occassion
+  Employee Appreciation
+  Client Onboarding
+  Prospect Gifting
+  Vendor & Partner Gifting
+  Virtual Events
+  Holiday Gifting
+  Covid Gifting
+  Sales Incentives
+  Milestone Gifts
+  Media Drops

If one of the above options sounds like your occasion, or you have something else in mind, drop us a line at [email protected], or fill in the form below and a member of our team will be back to you in no time. We can't wait for you to unbox the Vixi Gifting experience, whether that be in Ireland or abroad.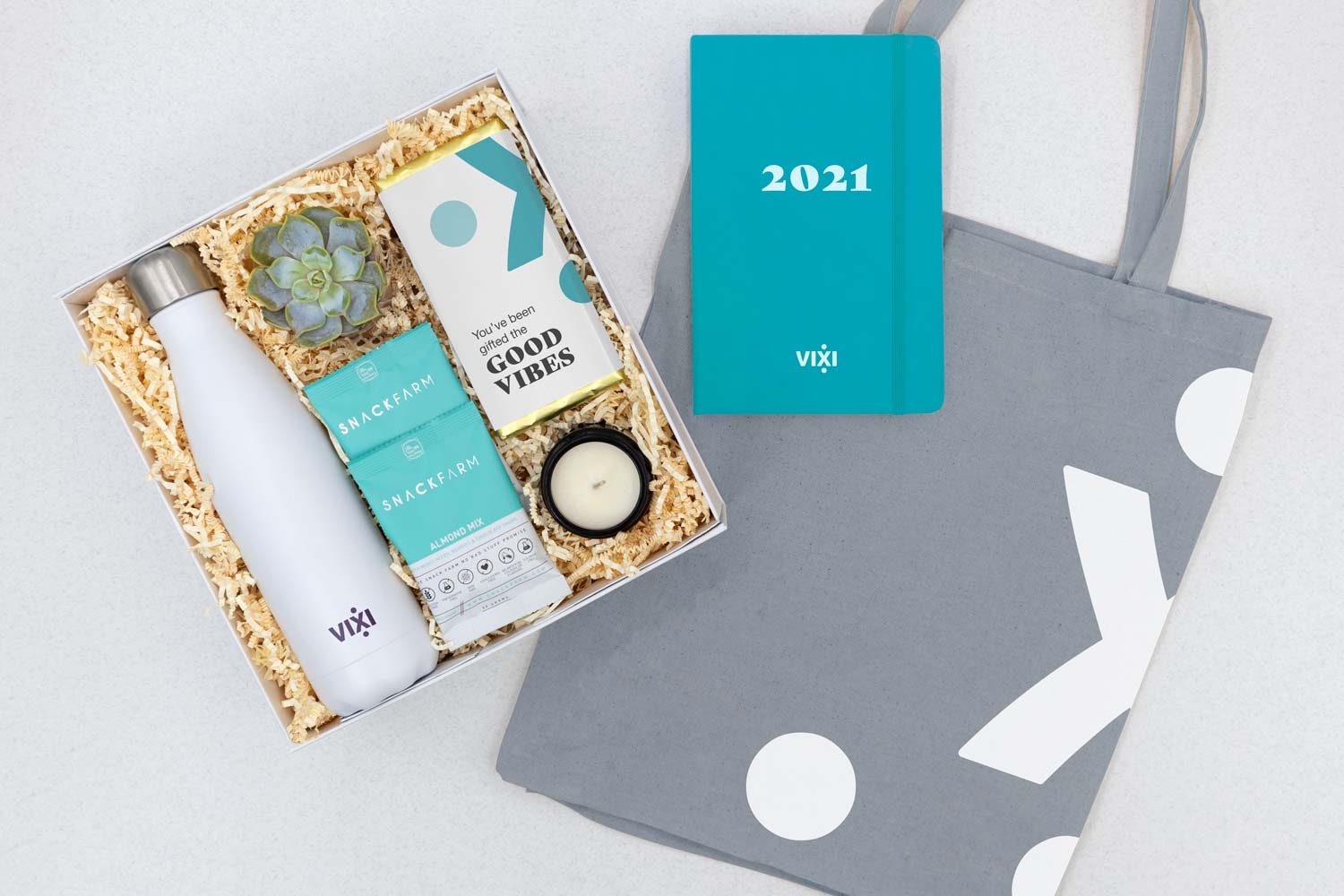 Gifting Is A Powerful Way To Keep People Connected During Covid-19
Keeping everyone connected is more important than ever during the times we are in. As more people are working from home and usual workplace events are cancelled, we want to ensure a sense of community is still a key element of your business during these times. We know that gifts can be a powerful way to make every single client, employee, or colleague feel appreciated and we love being able to personalise our gifts to be a representation of your brand and company culture, while remaining elevated and thoughtful. From zoom packages to welcome gifts for new staff, we have the package to suit your business.
FRANK
LGT Fund Managers Ireland
Remote engagement with staff is an area where we had struggled to find a company to collaborate with in the past and I think what Vixi Gifting managed to create for us was just perfect. The gifts were really well received with great feedback on presentation and contents from all staff. I really look forward to partnering with the team again in the very near future.
VICKY
University College Cork
Vixi Gifting created bespoke gift boxes tailored exactly to what I needed. I had very specific things that I was looking for and I couldn't find any one company who could put them all together for me. Dealing with Vixi Gifting was a seamless process from start to finish, I told the Vixi team what I was looking for and they did the rest. It was really easy! The best part was seeing the final gift box come together, it looked better than what I could have imagined.
Thank you Vixi Gifting for all the hard work & dedication you put into this project over the weeks we were working on it. It was lovely working with the Vixi team, and we really appreciate all of your support on this project.
Fill in the form below to help us get a better idea of your gifting needs, or drop us an email at [email protected] and we will get back to you in no time!