The time for Father's Day is almost upon us. As many of us will be shopping online for that perfect gift, we want you to be prepared and not have the last minute gift panic! So we have compiled a Gift Guide of our top gift Ideas for Dad, from gadgets to chocolate. We hope you enjoy!
AromaBuff Beard Gift Set
The perfect gift for the bearded man in your life! This gift set contains a Beard Balm, Beard Oil and a Double Sided Pear-wood Beard Comb – a sure way to keep your dad looking dapper!
How It Works: The Dad (Ladybirds For Grown Ups)
For a silly gift for a dad who likes a laugh, why not buy him a grown up Ladybird book? There are so many out there and we need them all!
The Bearded Man Bottle Opener
These unique Bottle Openers are crafted using sustainably sourced timber and come in three varieties: ash, beech and walnut. Accompany this with his favourite beverage and you've got a lovely Father's Day gift sorted. The Bearded Man Ireland has a whole range of uniquely crafted products, definitely worth checking out for a bespoke and thoughtful gift.
Fitbit Fitness Tracker
Once he starts using a Fitbit, it will be hard to be without one! With a variety of colours, styles and price ranges to choose from, you will be sure to find one to suit. A gift that won't ever gather dust.
Coffee Machine
For a coffee lover, a coffee machine is a must. Why not treat him to something he will love and you will all get benefit out of?
Chocolate Gardening Set
Anyone else pretty certain he will be spending Father's Day pottering around the garden? Yep, same! This adorable Chocolate Gardening Set from the Chocolate Garden Of Ireland will be right up his street!
Personalised Hammer
If you have a special Father or Grandad who deserves something special, how quirky are these personalised hammers? Check out Wooden It Be Nice Ireland on instagram for some more unusual laser engraved gifts.
Dad Text Art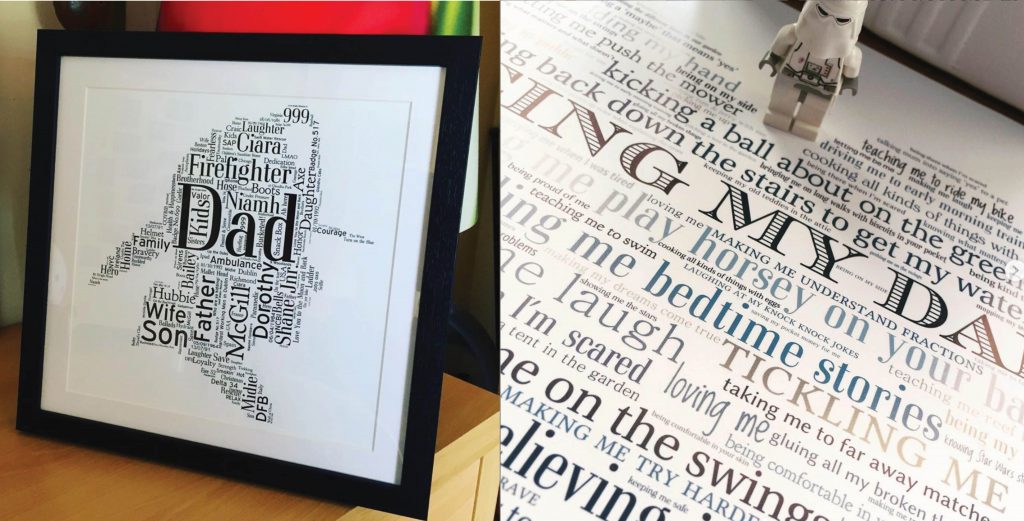 These personalised framed text art pieces are a timeless keepsake for the father figure in your life. You provide a list of words and The Word Bird will make them into a shape of your choice – the result being a lovely, personalised gift.

Vixi Gift Box
And finally, if you really want to show your appreciation for your old man – why not create a Vixi gift box for him? You can choose to have your products presented in a beautiful gift box and each gift comes with a handwritten card with a message of your choice. We can even deliver your gift directly to their door!
So that's it, folks! We hope you've enjoyed reading our Father's Day Gift Guide and are feeling inspired.